Posted in Europe on June 29, 2010
Today's guest post is by Colm Hanratty (@colmhanratty), Editor of Hostelworld.com (@hostelworld). In this post Colm tells us of two bars in Edinburgh that have special meal offers specifically targeted at backpackers.
I began working with Hostelworld.com over seven years ago, and since then I have travelled to many cities around the world to record videos, podcasts and more. Along the way I've stayed in many hostels, but the first hostel I stayed at through work was Castle Rock Hostel in Edinburgh. There I picked up many tips, but one of the most memorable, and one that I've put to use so many times, is the one that some bars in Edinburgh offer backpackers special deals on food, once they prove that they're a backpacker. There are two in particular…
The Last Drop, 74/78 Grassmarket, Old Town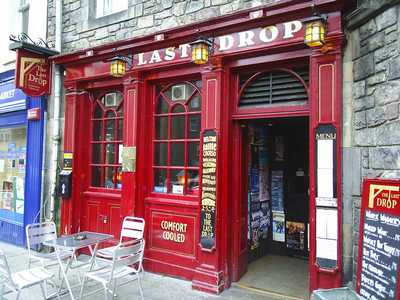 This traditional Scottish pub has been doing backpacker specials for years. Once you show your hostel key/card or student card (the food specials are for students too) to the friendly staff and you'll be able to get a selection of main courses on the menu that usually cost £7.95 for £3.95. So, what are these specials? They include lasagne, sausage and mash and the traditional Scottish favourite, haggis, tatties and neeps (haggis, mashed potato and turnip). The pub itself is a well known landmark, as directly across the road from it is where public hangings use to take place. 
Open daily 11am-1am (12.30am Sunday).
The Castle Arms, 6 Johnston Terrace, Old Town
It's hard to think of a pub with as good a location in Edinburgh as The Castle Arms. Found almost directly under Edinburgh Castle, Scotland's number one tourist attraction, this pub has been kind enough to dedicate an entire menu to backpackers. Called simply the 'Travellers Menu', it differs to that of The Last Drop as here the prices vary on this backpacker orientated menu. Comprising everything from fish and chips to 'pie of the day' to burgers, prices here range from £3.85 to £6.95. As with The Last Drop, you just need to prove to the staff of the bar that you're staying in one of the hostels and you'll be able to avail of this menu. This is the perfect place for lunch or dinner either before or after a visit to the city's premier attraction.
Open daily 9am-1am.
To keep up to date with everything at Hostelworld you can follow them on Twitter and like them on facebook.