Posted in Europe on October 13, 2010
Today's guest post is by Alex Johnson, contributing Editor from WorldReviewer.com. World Reviewer is a site all about providing travellers with inspiration for their next trip
Dublin is a fantastic city filled with history, friendly people and lots to do. My flatmates and I had such a great time here and not just because we began the weekend with an Irish coffee at 9:30 in the morning (an unusual time to order this cocktail, I know). There is so much going on in Dublin that it can be really difficult to decide what to do if you're only here for a short time. Check out this list for my top 5 Dublin highlights and some tips for the budget conscious traveller.
Trinity College
Trinity College is so stunning that we began to think about picking up transfer applications. The college has a lot of historical significance since it is over 400 years old, the alma mater of great literary minds such as Oscar Wild and Samuel Becket, and houses the Book of Kells. The campus has some of the most photographed buildings in Ireland and even if you aren't into architecture you can't help but marvel at the dignified atmosphere they create. This is a great place to walk around and escape the busyness of the city since all of the buildings face inward, creating a cosy collegiate bubble.
Hearty Irish Food
One of my favourite things about travelling is trying new food and there are tons of must eats in Ireland. Meals always seem to take up the majority of my budget, and Dublin was no exception, but we did find some great deals.
Though the free breakfast at hostels is a great way to save some money we agreed it was well worth passing up the cornflakes to try a traditional Irish breakfast, just this once. The Full Irish Breakfast can be expensive but you get a lot of food for your money. After gaping at the overflowing plate of another customer sitting next to us we opted for the cheaper and more manageable half breakfast, a perfect compromise.
Lunching while travelling can be tricky as I am always torn between a cheap bite on the go or paying a little more to sit and rest my tired feet. Luckily, in Dublin the decision was easy since there are so many restaurants offering lunch deals. We found a restaurant that would have normally been outside of our price range offering a limited, 5 euro lunch menu. My massive baked potato loaded with vegetarian chilli, cheese and sour cream was my best meal in the city.
Walk It Off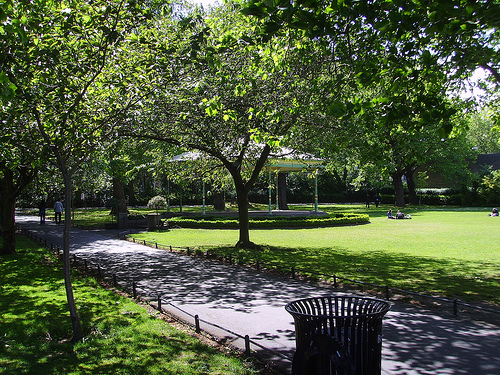 Irish food is not light fare and we found exploring the city was on foot was the best way to work off our heavy meals and get a taste of Dublin. Dublin is the perfect pedestrian city because it's not overwhelming, most of the main sights are close together and each street is lively and full of character. My favourite destinations were St. Stephen's green, a beautiful park with a playground that made me wish I could still fit into the swings and nearby Grafton street, one of the main shopping streets in Dublin.
St. Patrick's Cathedral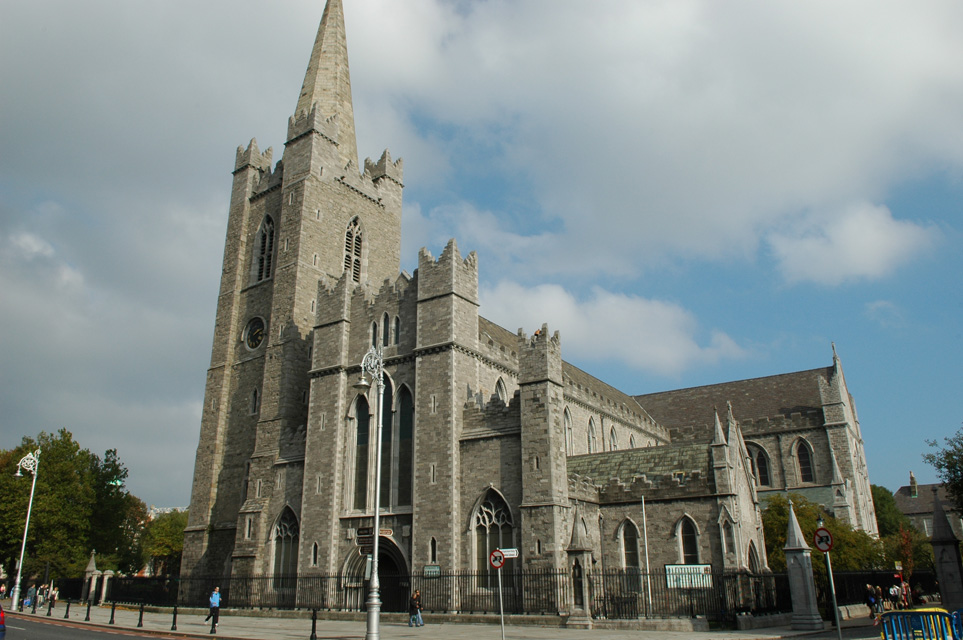 I couldn't take enough pictures of St. Patrick's Cathedral. From the outside, the impressive cathedral and the healthy, green grounds surrounding it are just beautiful. St. Patrick's Cathedral is such a part of Ireland's history that I think it's worth the small fee to go inside. It is here that St. Patrick supposedly baptized the first converts and where famous writer Jonathan Swift is buried. The interior of the Cathedral has elements of a museum with small exhibits, posters and plaques but the atmosphere is still majestic.
Temple Bar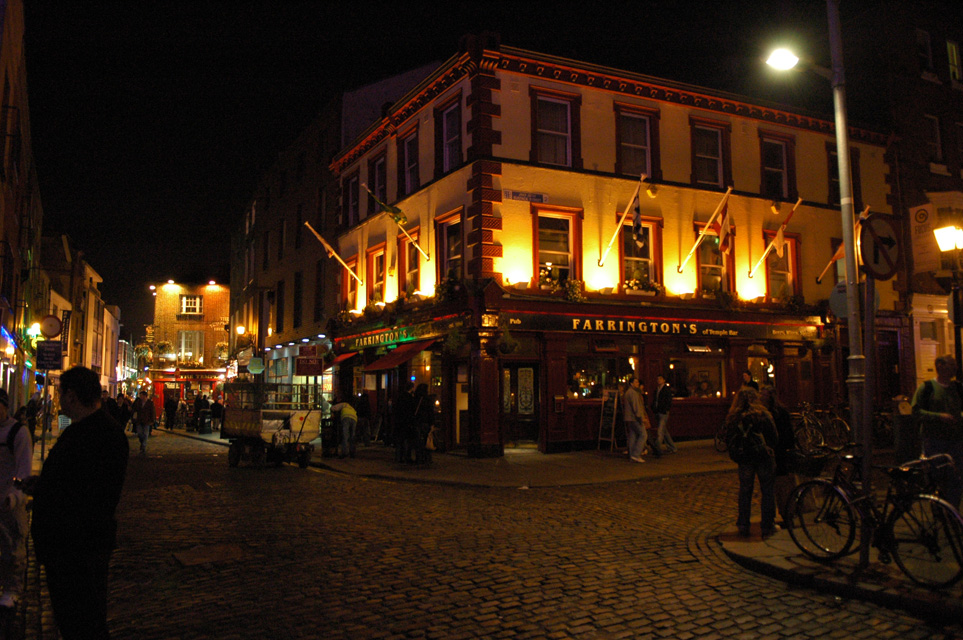 Temple Bar is not a single bar like I had first thought (though there is a pub called Temple Bar) but is rather Dublin's Cultural Quarter. This area has lots of character with its narrow cobblestone streets and is worth visiting both day and night.
During the day we went to the Temple Bar area to browse through the many quirky shops which included a lot of vintage and retro inspired stores. We stumbled across the weekend book market and the Saturday food market which looked like it had lots of good deals and delicious looking food, a great option for those looking to eat cheap. Only wish we hadn't just eaten lunch or I would have gone for the noodle stir-fry and a big dark chocolate cookie.
Temple bar is a must at night with tons of options for those looking to Publin, or Clublin. You'll have a difficult time finding a cheap drink anywhere in Dublin, but since this area is popular with tourists as well as locals it can be particularly expensive. It will be well worth it, but be sure to leave some room in your budget for a night out here. Don't forget to order a pint of Guinness, some say the tour doesn't live up to the hype but I think the beverage definitely does.