Posted in Europe on October 17, 2010
As I depart Prague for Amsterdam later today, I am left with the feeling that I did not get to see nearly as much as what Prague as a city has to offer. Six days is just not enough in this city. Overall there are 5 things which really stood out for me during my stay here.
The Architecture
The one thing that I was immediately struck by, particularly in the city centre and old town, was the breathtaking Art Nouveau architecture. The intricate detail on some of the buildings was incredible, particularly considering a lot of them where just ordinary restaurants, shops, houses, hotels, etc. You would walk along a street, and every building would be a different colour. There was green, blue, red, yellow, orange, pink, or black with gold engravings. Some had two tones on the outside of the building, others just one. There were intricate little statues on almost every building. It really was stunning. Feature buildings such as the Municipal House were also incredible. It was truly inspiring architecture. In fact, it's also inspired me to take up sketching again, something I haven't done in around 4 or 5 months. The architecture alone is worth coming to Prague just to view, and I'm not exactly an architecture buff, but it really was incredible.
The Expense
Prague was surprisingly very expensive when I was there. I had heard many times that it was very cheap, and if you head way out of the city centre it is, but anywhere centrally located and you can expect to pay around 4 – 5 GBP or more for a beer, and around 8 – 15 GBP for one standard pub meal in the city centre. That being said, my accommodation was particularly cheap, at only 5.5 GBP per night located just outside of the city centre in Prague 3. The pubs and restaurants near by hostel were cheaper than the city centre at around 2 – 3 GBP a beer, or vodka + mixer so I think the key is to just head way out of town. I met some people who lived in Prague 10 and they seemed to be quoting prices similar to what I had been told before leaving. Eating out and drinking out were very expensive however if you wanted to go out in the popular areas. Attractions varied greatly in price. To go up to the top of the tower in the old town it was around 4 – 5 GBP which is really good I think for a city centre attraction considering Edinburgh Castle charges 14 GBP for what is a mediocre attraction. There is also the Free Tour which is of course free. The pub crawl night out is around 20 GBP, but you get a lot of free drink and free entry into a club at the end which usually costs around 10 GBP for entry alone so was not so bad. The days however of Prague costing 30p a pint, or food costing a 3rd of what it does back home are well over I think, or at least, it wasn't like that when I was there. It is still cheaper overall in Prague than what it would be to say live in the UK, however Prague is a thriving European city, and I expect prices to continue to go up astronomically as it has quite clearly done these last few years.
The Local Food
Local food in Prague was very nice. There was an nfl game on when I arrived, and they were serving the most amazing cooked sausages, and joints of ham, with local bread (I have no idea what it's called but it's slightly grey in colour and tastes different to normal pan bread). It was seriously better than any vendor food I've ever tasted in my life, especially the fresh cooked meat. I had some more of the local sausages at a football much and it only concurred with my previous opinion. Prague does good food. There are also a ton of Italian restaurants dotted about everywhere, and many other International restaurants depending on what takes your fancy.
The History
I took the free tour whilst in Prague, and I highly recommend it to anyone. Our tour guide Jeff was excellent, and basically took us through around 1000 years of Prague history in just 2.5 hours! I would love to find out more about the history of Prague and the Czech Republic in the future as they have been through so much as a country, whether it is the World Wars, the 30 year war, Communism, becoming a Democratic nation, or the formation and split of Czechoslovakia into what is now the Czech Republic and Slovakia. There has been a lot of struggle here in the past, but it's good to know that the city is finally developing in a way that is free, and it looks to be continuing in that way for the foreseeable future.
The Football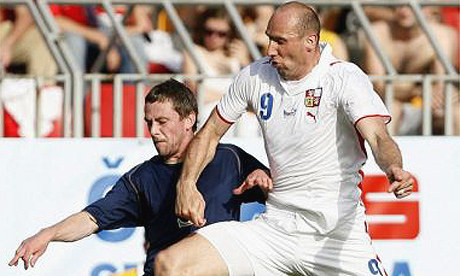 I deliberately timed my visit to Prague to coincide with the Czech Republic Vs Scotland football (soccer) match. Unfortunately, this also ate into my time a bit in terms of seeing Prague, but the atmosphere prior to the game was electric! I don't think Prague really knew what the Scotland football supporters were like! At one point there was around 5000 supporters (including myself) crammed onto one tiny platform at the tube station waiting for the train. When the first one pulled up (not our train), the crowd were singing, and dancing so loud that their carriage began to shake! The people on the train were at first a bit scared, but soon realised it was meant in good spirit and began posing for picture through the windows and filming us (I will no doubt be on Youtube somewhere ha!) The game itself was a bit of a down pint (we lost 1 – 0), but we got chatting to lots of local Czech supporters, and it was a great way to get to know the local Czech people. I always think if you are in a new country and you want to get to know the locals, find out what the national sport is and go check out a game (no pun intended). We sat in the Czech end, so there was lot's of banter going, and a good time was had.
I had a great time in Prague, and I highly recommend anyone thinking of visiting the city to come! I was only here 6 days and had an incredible time. It's also a great launch pad for the rest of Europe with its central location, with many cheap flights to prague available from most major cities in Europe. I am now off to Amsterdam, before returning home for a few weeks, and then off to Copenhagen! The two weeks home will give me time to refresh before heading off on another jaunt through Europe, and possibly onto Berlin…